Agata Kornhauser-Duda, the first lady of Poland, appeared to snub President Donald Trump on Tuesday as he looked to exchange a handshake with her, video footage showed. Trump was in Warsaw on Thursday delivering a major speech, but before the speech, he and Melania were welcomed by Poland's first couple. Trump began by shaking Polish President Andrzej Duda's hand. After releasing his counterpart's hand, Trump turned to Kornhauser-Duda for what he expected would be a handshake, but she completely bypassed his outstretched hand and immediately embraced Melania instead. Trump was left hanging and looking rather stunned by the snub. Watch a video clip of the exchange that surfaced online below. The two eventually do shake hands, but Kornhauser-Duda clearly left Trump surprised when she went to Melania first.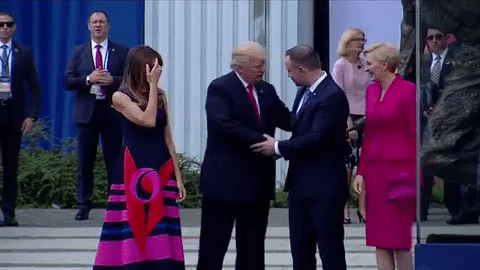 Of course, Trump is no stranger to this sort of tactic. Back in March, during Angela Merkel's White House visit, the president refused to shake her hand during the Oval Office photo op, a display that was sexist, but a departure from his usual in-your-face style of misogyny.
And speaking of Merkel, Trump and the German chancellor came face to face again for the first time since that icy Oval Office exchange. This time, Trump shook her outstretched hand and Merkel shook back. According to The Daily Mail, the two held the hand shake so cameras could get their shots and they engaged in some inaudible small talk as reporters snapped pictures. And as the photo by Reuters confirms, neither leader was comfortable doing so.
Read the full story at USA Today and The Daily Mail.
Related
Trump interrupts official presidential duties to comment on female reporter's looks
Mika Brzezinski fires back at Trump's unhinged, sexist Twitter attack
Condoleezza Rice says Donald Trump represents American 'values'